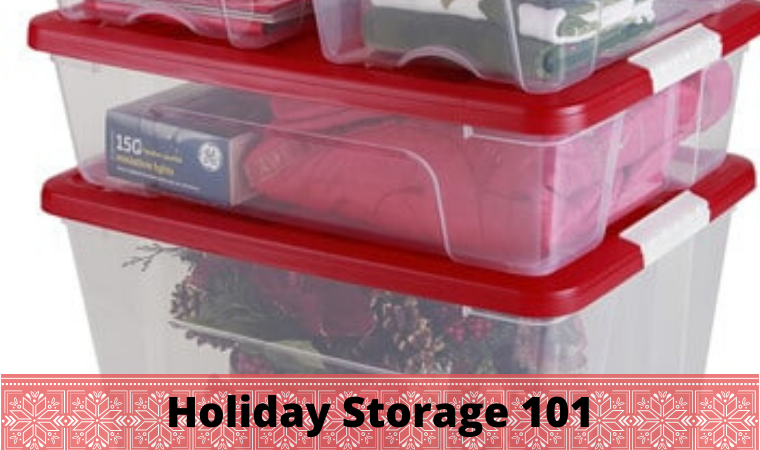 Taking Down and Storing Holiday Items
For some, November 1st (or even before) marks the date that it's acceptable to start decorating for the holidays. If you're one of those people, likely you have a good system in place to move these items in and out of your house with ease. For the rest of us, transitioning our home from its usual décor to holiday style can be an arduous task.
Clear bins – clear bins can really help take the guessing game out of holiday decorations since you can see right through. Bins are great for sturdy stacking in the garage and attic. We prefer ones with a defining holiday feature, like red handles or lid so that it's visually easy to determine which contain holiday items.
Labels – label all your boxes and items so that you know what's in the box and update it each year as you put things away since things invariably get moved around.
Wrap well – tissue paper, packing paper and bubble wrap will be your friend in protecting your favorite ornaments year after year. If you have glittery ornaments, also consider putting them in plastic bags to contain the glittery mess.
Secure wrapping paper – one of our favorite tricks is to use empty toilet paper rolls, or paper towel rolls to secure wrapping paper. Simply cut the empty roll lengthwise and put it around the wrapping paper tightly and tape. Now your wrapping paper will remain rolled tight without waste.
Purge – have old ornaments or decorations that repeatedly get passed over for presentation? Don't store them for another year. Gift them on a local neighborhood site or drop them at your local thrift store. Let another family treasure this item when you don't.
Save boxes – holiday items are easiest to identify when they're in the original box as it has the image of the product on it. However, this idea is only helpful if the item is easily broken down and able to be restored in the box. The other downside is that original packaging may not stack as well as putting the items in bins, though it may make sense where oversized items are concerned.
Organize by need – put outdoor Christmas lights with exterior decorations, tree stand, lights, decorations and tree skirt should also be packaged together. That way you'll have everything available when you're working on a task and you won't have to dig through everything looking for one item.
Put away by use – if you know you start decorating the outside of your house first every year, don't bury that bin. Instead ensure that it's at the top of the stack so it's easily grabbed when the time comes.
Preserve – consider the use of silica packets if your storage location is prone to moisture, or a few dryer sheets enclosed in each bin to keep spiders and other bugs from setting up camp.
Wishing you a happy and organized holiday season.