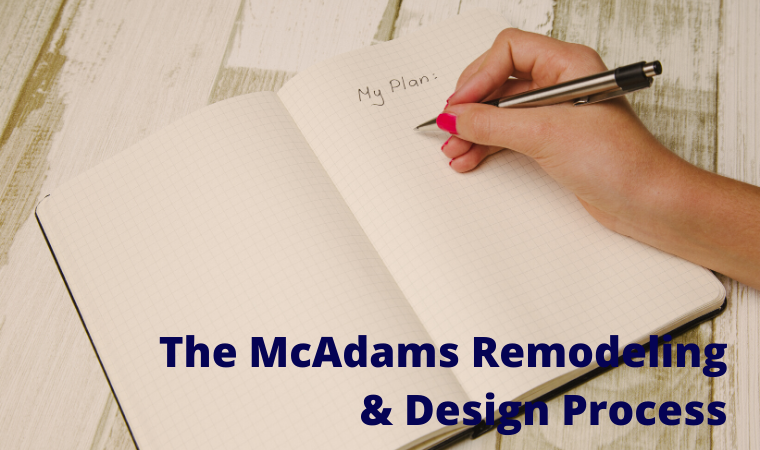 The McAdams Remodeling & Design Process
Sometimes the hardest part of a remodel is getting to the heart of what a client wants done. That sounds strange, we know, but it's not always easy to articulate what needs updating in a space other than "fix it, please." Often it takes a bit of detective work to get at the heart of the matter with a client so that we can create the best solution for a specific family. If you're new to McAdams Remodeling & Design and want to understand how we work, we've outlined the basics below so that we can be the most effective for the client in both time and money.
1. Complimentary Consultation – we offer these to folks so that we can get to know each other and they understand the value of what we offer. If we seem to be a good fit, then we move onto the next step.
2. Feasibility Study – for a small percentage of your estimated project cost, we delve into your project in further detail to ensure that it can be completed as expected. For example, we investigate that there aren't issues in obtaining a permit, or engineering or electrical concerns. This helps us give you a more solid cost estimate as well as a rough drawing that would help you determine if you'd like to move forward. Once that's complete, step 3 is next.
3. Letter of Intent – this is a key turning point in seeing your project evolve. Five to seven percent of your project estimate is collected to start the interactive design process, get drawings, concepts and even finishes solidified. Our clients see their designs and are often running to step 4.
4. Fixed-Price Contract – this gets you on our construction calendar after a deposit is collected to save your spot. Your approximate start date and deposit will allow us to start ordering your long lead-time items, secure permits and otherwise do all the things that will help make your project run smoothly once it starts. All of the pieces of your project are together and then…
5. Construction Begins – the day you've been waiting for has begun. You are on the way to the home you've been dreaming of.
Like what you've read? Learn more about our process here and meet our team.