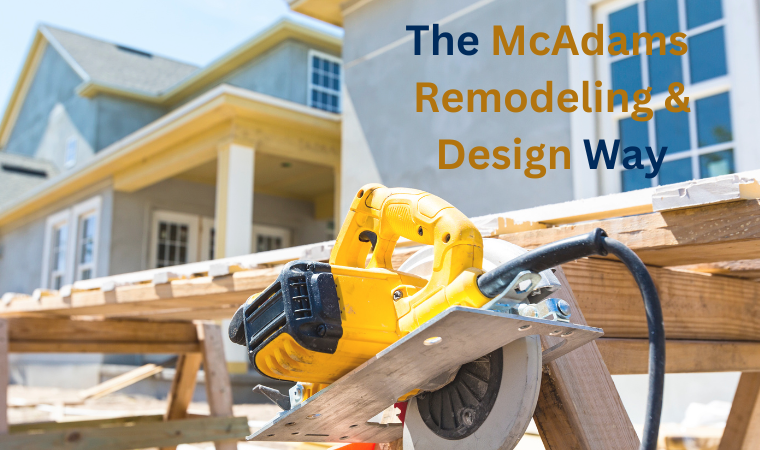 The McAdams Remodeling & Design Way
It's always hard when potential clients come into our office after a failed experience with another architect or remodeler. They are distrustful, frustrated, and understandably concerned about starting over with someone new. These challenges are one of the reasons we love the design-build process. Often there can be a disconnect between what one wants and the associated price. An architect can draw up beautiful plans, but if there's no connection between what's on paper and what it will cost in real life, there can be immense shock and disappointment once you get to the building stage. Similarly, other remodelers work on a time and material basis, and costs can vary widely depending on a carpenter's efficiency and knowledge. With a design-build firm like us, we help you develop your design with cost in mind and we have the construction knowledge to provide guidance if you select an option that increases costs.
Here's how we work:
We have an Initial Meeting and Evaluation
After our initial phone call, we will schedule a meeting at your home where we can better evaluate the proposed project and get to know each other better. It's an opportunity for both of us to ask questions and allows us to physically see your home and discuss with you any potential issues along with the scope of work in greater detail.
We do a Feasibility Study
This step ensures we do our due diligence around what can be done to your home based on city building restrictions, zoning issues, and more. Though it's not necessary for every situation, significant remodels benefit from rough architectural drawings and analysis of potential challenges.
We provide a clearly outlined Letter of Intent
Once you've reached this step, it means we've mutually agreed to move forward, and the design process will begin. Project specifics get entered into our online project software, BuilderTrend, and your design plans come to life with the materials you select. This is typically when we submit for permits on your behalf.
We offer a Fixed Price Contract
By the time we reach this stage, you've been given an estimated investment range, we've developed solid plans, and permits have been requested. With all of that detailed information, we can develop a fixed-price contract which outlines expected costs of materials and labor and overall commitments on your project. You will receive an approximate start date, we'll develop your project calendar, and materials with long lead times, like cabinets, will be ordered.
Construction Commences
Every project begins with a pre-construction meeting that includes the clients and our team. We'll discuss expectations, answer any questions, and ensure we have the information necessary to lessen as many interruptions as possible to your daily life. We will continue to have regular meetings to ensure the project is going smoothly, discuss any concerns and ensure regular communication.
It is our goal to develop excellent relationships with our clients so that you can't help but rave about us to your friends and family. We're so committed to this idea that we offer a 10-year Limited Warranty. If you have more questions about what it's like to work with us, don't hesitate to reach out.