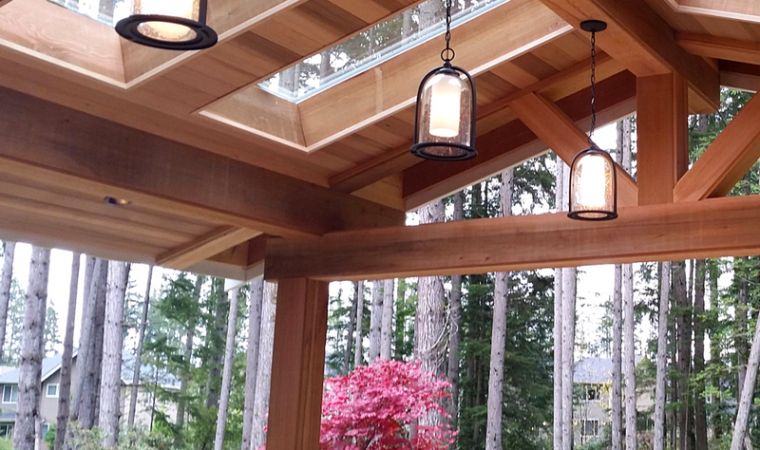 The Six C's of Making a Great Outdoor Living Room
Most pacific northwesterners can agree that our summers are the best. From July 5th through the end of September, our area can't be beat. That's why, having an outdoor living space that you can enjoy then, and possibly all year long, is so great. Future buyers and existing owners alike can really benefit from a well-designed outdoor living space. If a remodel or addition to your outdoor living space is on the horizon, consider the following six C's in your design:
Covered – it rains here…a lot. Covered will make your space usable rain or shine and can help you maximize the benefit of this awesome space. Remodeling a home to have a covered outdoor living room does require expertise, properly tying in a new covering to an existing roof line is very important. If you have a neighbor that looks into your space, a covered area can also give you some much needed privacy.
Cozy – a fireplace on a covered patio is a must-have. Not only will it keep you warm on cold winter nights, but it's an awesome way to curl up with your honey at the end of a long day or with a good book. Good lighting is also important to fully enjoy your space all year round.
Cooking – does outdoor dining and cooking sound great? Then a built-in kitchen or at minimum, a grill, is key to making your room functional for great meals. We have clients who didn't stop at the built-in grill, but also have an outdoor refrigerator, sink, wine cooler, warming drawer, and more.
Centered around your lifestyle – really consider how you'd like to use your outdoor space and then ask us to craft a design that fits that. Don't go with a cookie cutter design if that's not conducive to your lifestyle.
Comfortable – once you get your outdoor living space, don't skimp on furnishing it. In a covered patio design having a really comfortable, year-round set of furniture is a must-have to ensure it's a place you and your family will spend lots of time. We also recommend clients include heating systems, whether built-in or removable, so that temperature is not the reason you're heading inside.
Consistent – choose a design that goes with your home's architecture and style. You might love rounded archways, but if you have a really traditional home, that style will likely look really out of place on your home.
Realize more space in your home, by going outside. See more outdoor living space remodels we've done here.