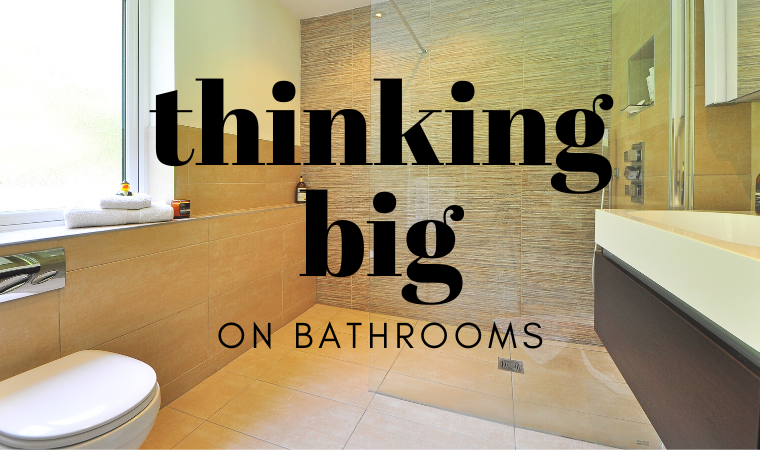 Thinking Big on Bathrooms
Not everyone has a palatial home with square footage to spare for significant bathrooms. Don't despair if your bathroom is a standard size, there are ways to make your space feel more spacious.
Ditch the Bathtub – if your bathroom contains a bathtub, but it's never used, don't keep it in your bathroom design. Instead, if showering is your preferred method for cleaning yourself, eliminate the bathtub and embrace a larger shower design that is a better fit for your lifestyle. A curbless shower option can also make a space feel larger as there aren't any stops for the eye.
Floating Vanity – this seems silly, but a floating vanity can really help make a smaller bathroom feel larger. The eye can go wall-to-wall without stopping at a cabinet.
Frameless Shower Doors – shower curtains, though a moveable barrier, can make a space feel tighter than it is. Consider a frameless shower door. It can let in maximum light and operates similarly to a mirror, in that it makes the space feel larger and brighter than before.
Contain the Clutter – nothing makes a space feel smaller than stuff everywhere. One of the first conversations you have with your remodeler should be about what items you use everyday and what the ideal situation would be for storing them. Maximized storage within cabinets can ensure you have the things you need, when you need them, but without the eyesore.
Simplicity – your material choices can play a part in how large or small your bathroom seems. Really busy patterns will likely make a space feel tighter than a more simplistic alternative.
Reflection – Large mirrors, especially those that go to the ceiling, can help a smaller room feel larger. Natural light is also a great way to improve the perception of size, so if a solar tube or skylight is a possibility, we say go for it.