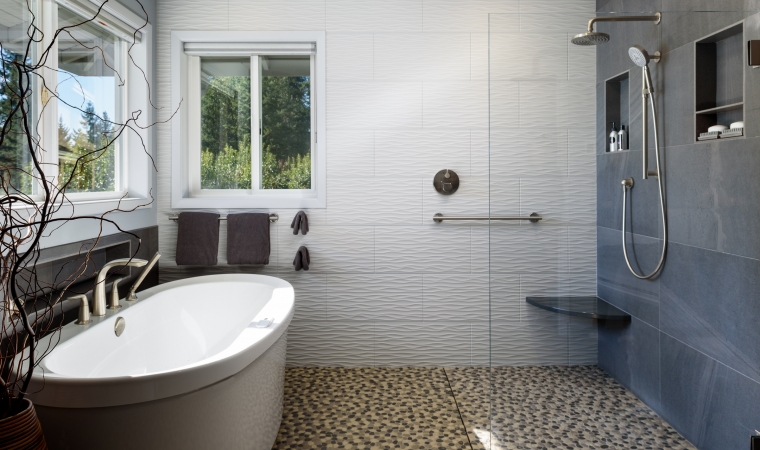 This Year's Hottest Bath Features
Even the smallest bathroom can have incredible design features, though the larger the space, the more options are available. If you're considering a bathroom remodel this year, you may be interested to know current trending bathroom features lay in transitional and contemporary styles, more than other traditional styles.
Soaking tubs, especially free-standing versions are this year's go-to design. Not only do they come in more attractive styles than ever, but they often are easier to clean than some of their counterparts.
Frameless cabinetry aka European cabinetry is hotter than ever before. The sleek look lends itself to a contemporary or modern feel.
Floating vanities are great choices for those that want more autonomy in choosing at what height your vanity is placed. Built-in options only provide three typical height choices, whereas a floating vanity can be placed at your height of choice and are great if special needs accommodation is desired.
Quartz countertops are still the top solid-surface option. A man-made material, there are myriads of color choices and patterns and cleaning and care is a breeze.
Heated tile continues to be incredibly popular, and is on the rise. Not only can you place heated tile on a timer, but tile conducts and holds heat better than most other surfaces. No more getting a chill after your shower, heated tile will keep you toasty and warm and is energy efficient.
Undermount sinks continue to be the top choice among consumers. Flush to the bottom of the countertop, you maximize your counter space and won't accidentally hit the rim of the sink with something. Undermount options come in a variety of colors and materials, providing lots of options.
Hand-held shower heads are trending up. Not only are they great for personal cleanliness, they come in handy when you're cleaning.
Towel warmers and steam showers are spa-like features popping up at home. Who doesn't want a warm, toasty towel to step into?