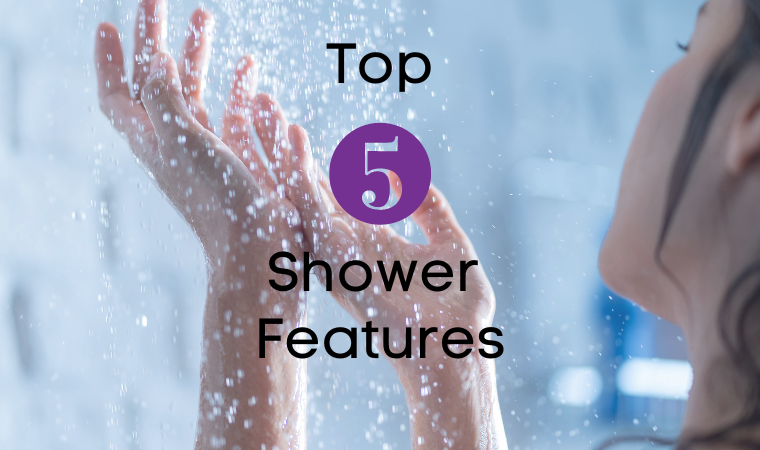 Top Five Shower Features
Roughly two-thirds of Americans shower daily. If you're looking to optimize your shower to make it a more enjoyable and functional space, we're here for you!  Here are just a few suggestions:
Functional Niches – Part of the design process should be discussing the number of products you like to use daily as you'll probably want these to be easily accessible in niches or on finished shelves. If you regularly shave your legs, consider including a shaving niche. These can be a great alternative to a bench or seat in the shower as they provide the user with a place to rest their leg while shaving, and they can also be a good spot to store things like razors and shaving gel.
Linear Drain – More attractive than the alternative, linear drains are also ideal for those who prefer a larger floor tile format vs. a tile change at the floor, which is usually finished with a smaller tile. Linear drains also offer a reduced tripping hazard since the floor is flatter than with a traditional drain design. The continuous larger tiles help to make the shower look and feel larger, and they reduce the cleaning time by virtue of fewer grout lines. Linear drains might also be a better choice for those that have issues with hair and other items clogging the shower drain as they have removable filters.
Showerheads – If you have individuals of varying heights using the same shower, a handheld showerhead with a slide bar is a great choice for maximizing everyone's comfort. These also make cleaning a snap as you can easily rinse the soap off walls, etc. If you'd like to up your spa experience and increase your home's value while reaping the health benefits, consider including a steam showerhead system or a rain showerhead as part of your master bathroom design.
Curbless Entry – Great for aging in place or optimizing your home for those of all abilities, these can offer a clean line design while maximizing available shower space. Typically utilized in a 'wet room' design, it can be easier to clean than curbed alternatives while highlighting unique design features like special tile shapes.
Seating – Shower benches or other seating is a design feature often requested by our clients. If you don't want to give up the space for a large bench, Floating or fold-up options can be great for those who don't need it for daily use currently, but who want it as an option as they age.