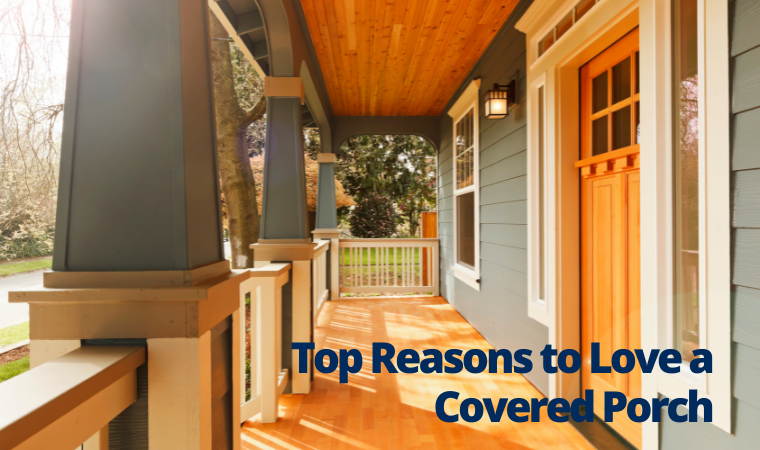 Top Reasons You'll Love a Covered Porch
If you've got porch envy, we understand. A covered front porch can offer a multitude of benefits. Read on to see the reasons you may want to request an exterior remodel that includes adding a covered front porch to your home.
Protection from the elements. Struggling with your keys at the front door is annoying but struggling with your keys at the front door in the rain is downright miserable. A covered front porch offers entry with protection from the weather.
Transition Space. Whether offering guests an area to remove shoes before entering your home or a comfortable place for you to watch your kids while they ride their bikes in the driveway, a seating option under a covered porch is a great option.
Create a great first impression. We all seek great curb appeal and a covered porch delivers. An attractive roofline, a good lighting plan and appealing furniture and finishes will add the touches to create a great space for you to enjoy now, and will attract a broader set of buyers should you choose to sell later.
Increases home value. According to Discover.com, adding a front porch can offer an 84% return on investment. Who doesn't want that?
Lower energy consumption. A covered porch can help make your home more energy efficient by shielding it from the sun, allowing your home to remain cooler in the summer months. In the winter, it gives you a buffer between the cold and your front door and windows, and serves as a windbreak during storms.
Increase outdoor living space. A covered porch offers more entertainment space for residents and guests. Protected and comfortable, it can provide a great space to sip your favorite beverage while keeping up with neighborhood happenings in comfort.