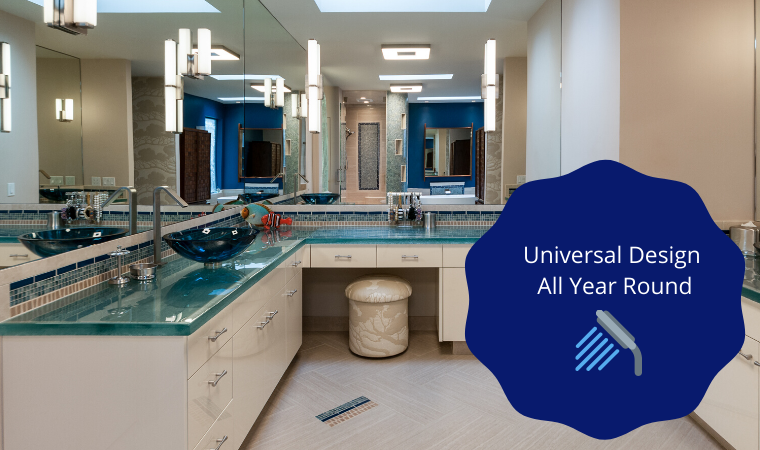 Universal Design All Year Round
For most, a house with universal design features isn't something we consider until we really need it. Once we find ourselves in a situation where universal design features would be incredibly helpful, it can be an overwhelming concept to address. We suggest you consider implementing these features when you're in the process of a remodel, to ensure your design includes features that serve you today and in the future. If you're remodeling, start thinking about:
Addition – if an addition is on the horizon, consider a master suite on the first floor of your home. Guests or you, as you age, will have an easy, level space to sleep and get ready for the day.
Bathroom – a full bath on the first floor of a home, can ensure that in case of injury, one doesn't have to climb stairs for bathing. You can bring in a temporary bed, but a temporary bath is difficult. A curbless shower or choosing a wet room concept, can also be a good choice when planning for your future bathroom.
Kitchen – choose drawers over cabinets as part of your kitchen remodel. Pulls are the preferred handle to make drawers as universally friendly as possible.
Give some thought to the details as well, choose slip resistant flooring, opt for wide doorways, grab bars, no-touch faucets, and environmental controls at a height that would allow those in an accessible-challenged situation to use easily. Motion sensor lights, comfort-height toilets and floating vanities can also be helpful. Appliances with touch pads are easier to use than knobs. Forethought in the design process is key to ensuring that you choose the right products for your space.