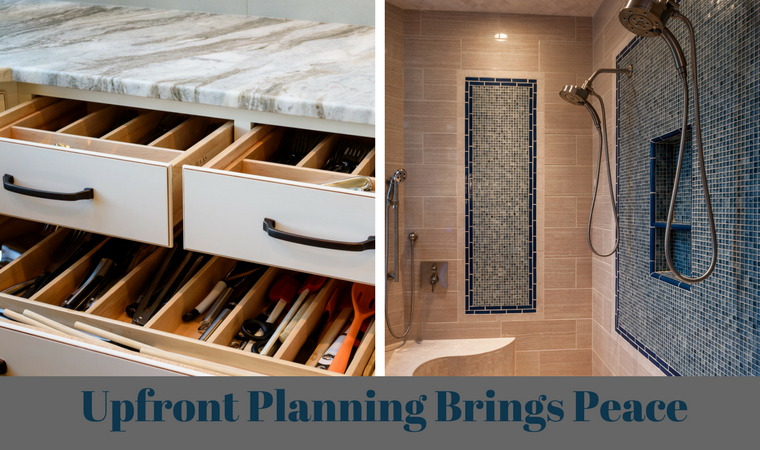 Upfront Planning Brings Peace
Ideally, a good home design should work for everyone in a home. While you can't always make an entire home kid friendly, the two adults in a home should find a harmonious balance with their home design so that it suits each of them. In order to strike that balance, we recommend the following:
Appropriate height counters. If one person is quite a bit taller than the other, consider implementing two countertop heights or workstations that are appropriate for each person. An island is especially good at accommodating this in a design.
Soft Closing Drawers. Nothing can grate on the nerves quite like the slam of beautiful new cabinet drawers. Soft close glides can ensure that drawers are closed gently, every time.
Drawer and cabinet organizers. If one person is a neat-nick and the other haphazardly throws utensils in a drawer, there's bound to be fights. Drawer and cabinet organizers can ensure that everything has its place.
Double-ovens. If there are two cooks in a household, don't be an oven hog, get your own! Double ovens are common in kitchen designs and can ease cooking challenges, especially during the holidays.
Garbage and recycling center. Eliminate the frustration by one partner of not being able to do dishes in peace. If someone's asking them to move constantly to throw away or recycle something, it can be frustrating for both parties. Instead, if the garbage and recycling center is placed somewhere other than directly under the sink, harmony can reign.
Two sinks. The answer to happily married couples are never having to share bathroom sinks. This way if one person makes a mess, it doesn't affect the other.
Separate toilet. A separate toilet area, ideally closed off by a door can be a game-changer for bathroom usage arguments.
Individual work-spaces. If both partners work from home, or one pays bill and handles the household requirements while the other needs a daily office space, carving out separate spaces can really keep the peace.
Whatever your needs, the proper planning with a qualified design-build firm can really make a difference.