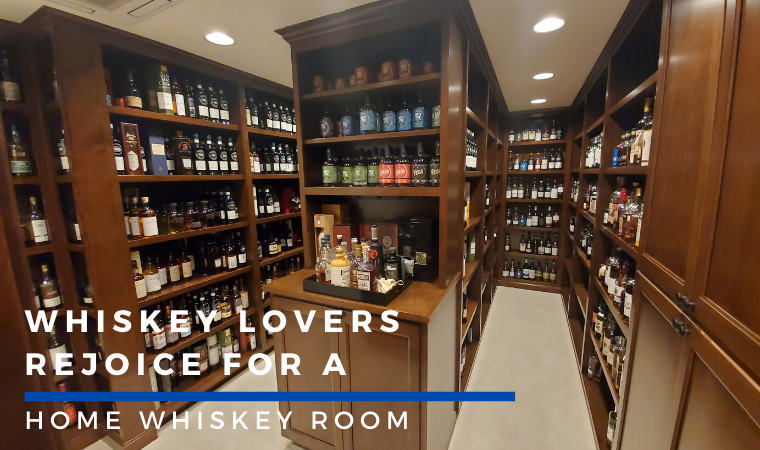 Whiskey Lovers Rejoice for a Home Whiskey Room
Part of a large addition, some recent clients requested a whiskey room for their Woodinville remodel. Dan is a huge whiskey collector and having a dedicated and attractive space for him to store his collection was a must-have in their home addition. The couple, busy area physicians, have grown children, and were remodeling with the intent of changing the home to fit their current and future lifestyle preferences and activities.
His requests for his room were for maximum whiskey storage, but also as a location to store his camera equipment. Initially requesting room for 5,000 bottles, a design with cabinetry along the walls proved insufficient to his desires. An updated design with interior cabinetry that allowed for two aisleways, captured the layout he was seeking. During construction, it became apparent that the more than 3,000 bottles now spread throughout the room, instead of on the periphery, posed an unexpected weight problem. The McAdams team quickly addressed the support issue, and with some engineering help, resolved the structural needs and learned a valuable lesson for the future.
The finished room features 3,000 plus bottles of whiskey from around the world, on display in beautiful custom maple wood with a Coventry finish from Schrock's Cabinetry. The adjustable shelves are designed to hold sufficient weight for various bottles while featuring Dan's vast collection and offering a place for tasting with favorite friends and fellow whiskey lovers.