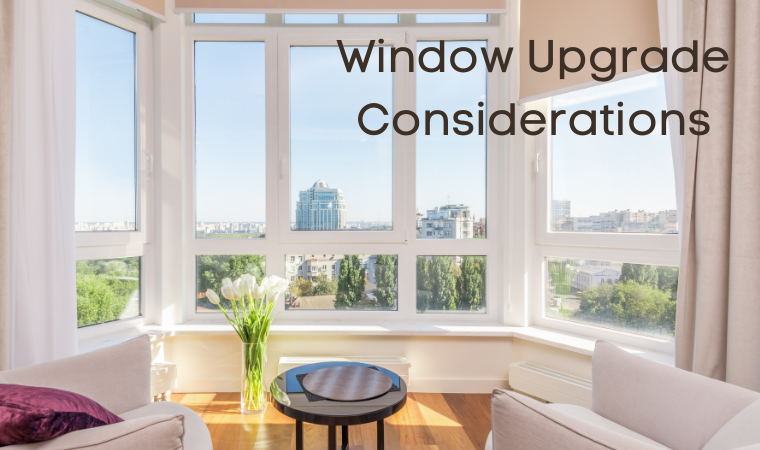 Window Upgrade Considerations
Windows can really highlight the style of your home. Beyond providing basic weather protection, windows let in natural light, highlight nature, and open your home up to outdoor views. However, if you notice a draft around your windows or condensation developing, it may be time for a replacement. Pay attention if you've started to notice neighborhood noise more, increased energy costs, or see that your window frames are showing wear. Any of these indications, along with window operation being compromised, are clear signs that an investment in your windows is warranted.
Once you decide that a window upgrade is necessary, consider what features are important to you and then ask questions about the products available to ensure your needs will be met. For instance, if energy efficiency is at the top of your list, you may want to ask about coating options. Low-e coating is common in our area as it protects furniture and other items from sunlight damage and is especially helpful if your home is near water and subject to glare. Aluminum is still a frame option, though vinyl and/or fiberglass frames are the most selected. While wood frames are a beautiful choice, they are a more costly alternative. Most important is to choose an option that complements your home's style and architecture as windows really make an impact. Many people focus on the number of panes a window has and question whether a double or triple pane style is best. Here in the Northwest double-pane are the most selected option as we don't have extreme enough temperatures to warrant the increased cost associated with a triple pane versions. Consider how long you intend to be in your home as this may drive the level of investment you are willing to put into your choice. If privacy is a consideration, there are texture and glazing options available that allow optimal light while preserving privacy.
Finally, installation matters. While we take great pride in our excellent work when installing windows as part of a larger remodel, if you are just doing a window upgrade and choose another company be sure you understand their installation method, their expertise, and whether they warranty their work.