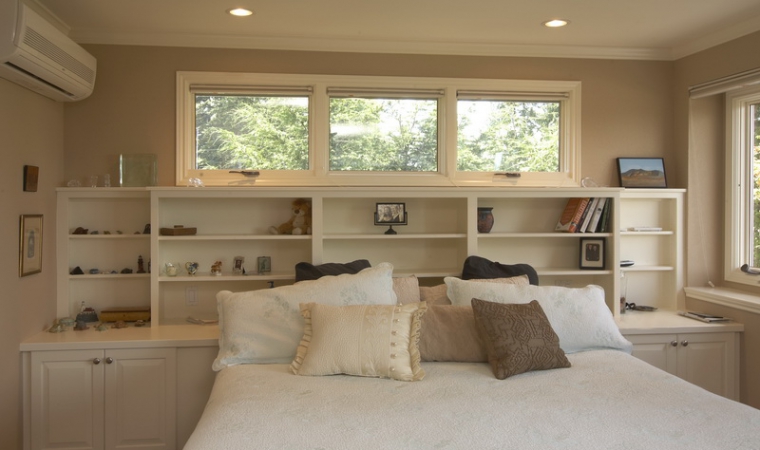 Beautiful and Storage-Boosting Master Bedroom Remodel
Additional storage isn't necessarily the first request for a master suite remodel, however, it's often a consideration for clients looking to upgrade their boudoir. Longtime clients Dick and Kathy wanted to upgrade their master suite, complete with redone master bathroom. In the bedroom itself, they wanted to improve the space so that it was reflective of their current needs. Their existing bed was slid into a jerry-rigged shelving unit that held the couples reading collection, but left the space feeling busy and cluttered – not ideal for a restful locale. They had a large master bedroom, as McAdams Remodeling & Design had done the addition years prior. The full space wasn't being utilized to its full potential though. Kathy was a voracious reader, and author in her own right, so she desired a reading nook that would contain their book collection, but also serve as a small reading nook or a nice place to watch the morning news. The adjacent wall contained the flat screen TV, and had a few shelves, so it would need to be tied into the new shelving design.
The new white built-in shelving unit around the bed was attractive and allowed the couple to reduce the clutter around them at night, but still keep a few keepsakes handy, like photos of their family. Closed cabinets on either side, served the role a traditional nightstand would, but with more innovation and purpose. Best of all, more natural light was gained as they opted for a shorter, wider cabinet design that featured three small windows above, creating a bright and airy space. The new reading nook held the couple's book collection, and two wingback chairs for reading or watching TV. The media shelving was upgraded to match the other two spaces. New Warm Sand paint from Benjamin Moore, white trim boards, and a MinkaAir overhead fan/light combination from Ferguson completed their retreat.
See more photos of the en-suite master bathroom that was part of this beautiful remodel.