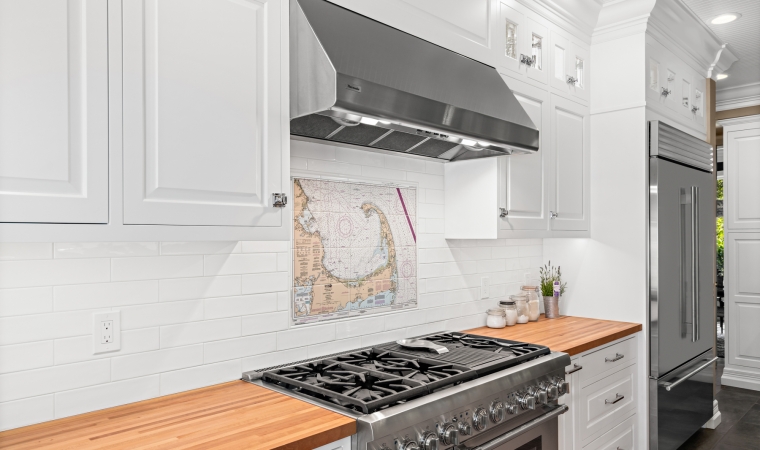 From Dreaming to Reality in this Woodinville Cape Cod Kitchen
These clients are not new to remodeling, they knew exactly what type of firm they wanted to hire and what they were looking for with their kitchen remodel. In this case, our clients Heinrich and Anna had a beautiful, but dark kitchen that didn't represent their tastes. The cherry cabinets had darkened over time and paired with a black granite countertop, left them wanting. Avid coffee drinkers, a morning espresso for the pair was a must have. Their favorite coffee machine was important in their kitchen; however they didn't love that it was visible on the counter even when not in use. A large peninsula separated the eat-in dining area, putting a barrier between the cook and guests. The island, while large, was two levels, and limited the work area because of the raised area. Finally, a nearby business center ended up being a catch-all, causing stress for this organized duo. After living in the home for a bit, they wanted to take the kitchen and make it theirs.
The new kitchen design features white maple cabinets with a quartzite countertop in the color Taj Mahal. The slightly larger island eliminates the peninsula so that it feels open and cohesive, while butcher block countertops on either side of the range provide a beautiful and functional option. Additional cabinets, hidden behind the chairs on the back of the island provide additional storage options for specialty dishes. Large matte black pendant lights with brass interiors hang over the island and dining area. Wooden and wire pot racks enclose the island pendants for a fun and attractive way to store cooking pans. Overall, the kitchen color profile is much lighter than before with white subway tiles on the backsplash. A touch of whimsy in the design can be found in the form of a small nod to New England's Cape Cod with a custom tile map over the range that they picked up in their travels. A creamy beadboard ceiling gives the room a beautiful custom look while staying on theme. A favorite feature is the appliance garage that holds their ever-important espresso machine but hides it away when not in use. Little details like their pop-up outlets make a big splash with everyday use, while the built-in cabinets in the hallway offer additional kitchen storage, book storage and display cabinets at the top complete with special lighting.
The couple is very happy with their new kitchen. It offers custom kitchen solutions that work for their life, while wrapping it in a big, beautiful bow.