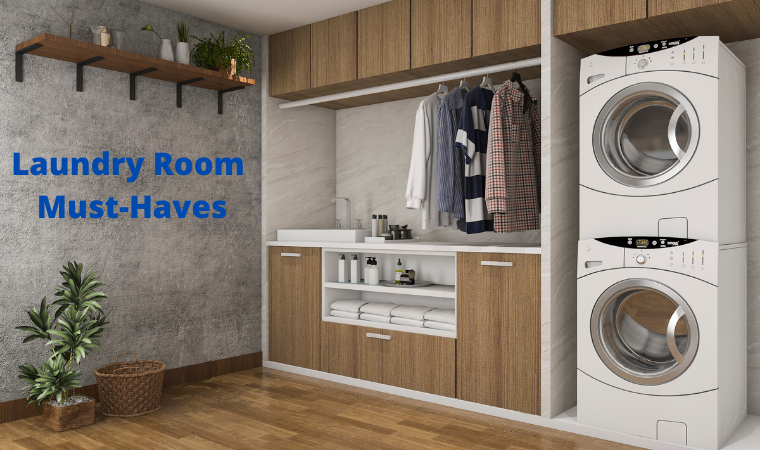 Laundry Room Must-Haves
Laundry rooms and mudrooms are often responsible for being catch-all spaces – serving as a laundry zone, storage area, folding space, and sometimes even a bathroom. A laundry room design doesn't have to be utilitarian, in fact it can be a space where smart design, based on homeowner use, can really shine. If there's a room that rocks retro tile better than a laundry room, we don't know what it is. Many clients opt for fun patterned tile or a cool vinyl, along with bright colors.
We find our clients' requests tend to fall into one of the following three categories:
1. Storage. More than ever, we as homeowners are trying to ensure our home can be all things to all people. For laundry and mud rooms, a hanging area is important both to hang-dry laundry and for wet items straight out of the rain. Whatever the need, a hanging bar is a great part of any laundry solution. Dedicated bins are often requested by families with kids to store items they can grab on the way out the door, or as a location for a family member to grab their newly laundered clothing to put away. Laundry baskets, hidden hampers or bin storage can be crucial for reducing clutter and improving the function of a busy home.
2. Function. This room is a catch-all. It can include a guest bath – or be a place to disrobe after messy activities. It could also serve as the location for bathing your pet, and of course, it's where you wash your clothing. In our experience, clients appreciate rolling carts for ease in moving clothing around. Focus on what your primary needs are, and then design the room around what would best benefit your family. Many of our dog loving clients install a shower with a handheld showerhead option, that can do double-duty as a shower for guests and for man's best friend. Busy families tend to opt for a full service mudroom that can contain daily use items like backpacks, rain jackets and boots without these becoming an eyesore. Often this room functions as a guest bath for out of town visitors, so it needs to have a sink comfortable enough for short-term, regular use, as well as for soaking clothes. Often a combination tub/shower can be helpful to provide guests ultimate comfort while visiting.
3. Location. The best placement of a laundry room depends on your home's layout along with the intended primary use. If a mudroom is key for your family, near the garage or entryway would be the perfect spot. If laundry is your principle focus, you'll want to place it near your bedrooms so you won't have to transport clothes throughout the entire house. If your laundry room remodel will include a soaking sink, locating it near an existing bathroom may provide for the easiest access to link it into your home's existing water system.
In an ideal world, this room is spacious enough to contain clutter and provide lots of storage options for the various tasks it handles. We recommend hardy materials since this workspace is usually subjected to frequent, heavy and various levels of use.