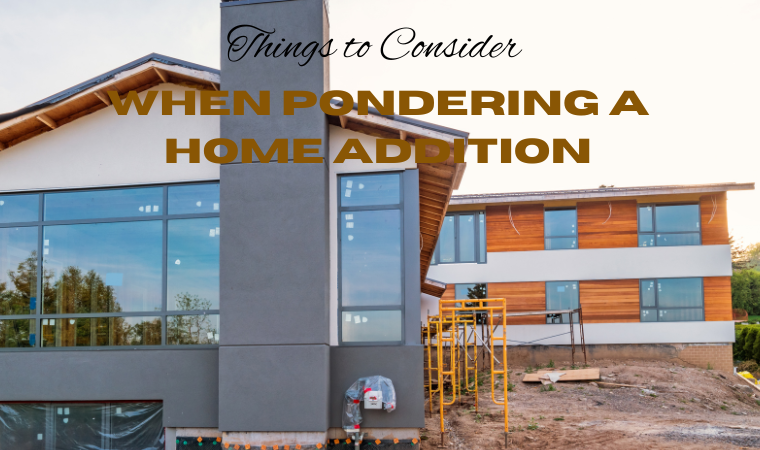 Things to Consider When Pondering a Home Addition
Wintertime is the perfect time to cozy up and find joy in the quieter, darker months. For many of us that includes cozy linens, warm sweaters, and hot beverages. Sometimes when hunkering down, however, the ways your home isn't meeting your needs might really come into focus. If it's more space you're needing you essentially have three options – you can move, remodel or add on. If you like your neighborhood, your home overall and your school district, moving may not be your best option. Conversely, a home addition can be a great way to get the space you require for your family, but you should ask yourself a few questions before you green light the project:
What are my goals and how do I want to use the space?
You must know what your goals are to determine the right design. For example, if more space is the primary goal that's great – but what kind of space? Further, if you add a beautiful master suite will your existing master transition to a child's room or guest room? For optimal cost effectiveness, likewise, consider how you might transition other existing areas once you've added on so that any additional alterations to things like plumbing or electrical can be incorporated into the addition project.
Do I have areas that aren't being utilized?
Many homes have dead space in their design. With the right design expertise, utilizing these areas may be an affordable way to meet your goals.  It's amazing where a laundry or powder room can be tucked in, for example. Or, if you have an unfinished attic or basement, one of those may have the square footage needed to provide the function you're wanting. With the right expertise and vision, even a substantial (i.e., tall) crawlspace can provide enough space to add another whole level to your home.
If I remove an interior wall, will that fix my frustrations?
An addition is a big undertaking and can be very disruptive and expensive, so we always look to suggest alternative solutions, if possible, to solve a client's frustrations. If opening up a smaller room by way of a wall removal offers a satisfying alternative, we will suggest that first.
Whether we're talking about a home addition or a remodel, we love working with clients to create a custom home design solution that will serve their unique needs for years to come.