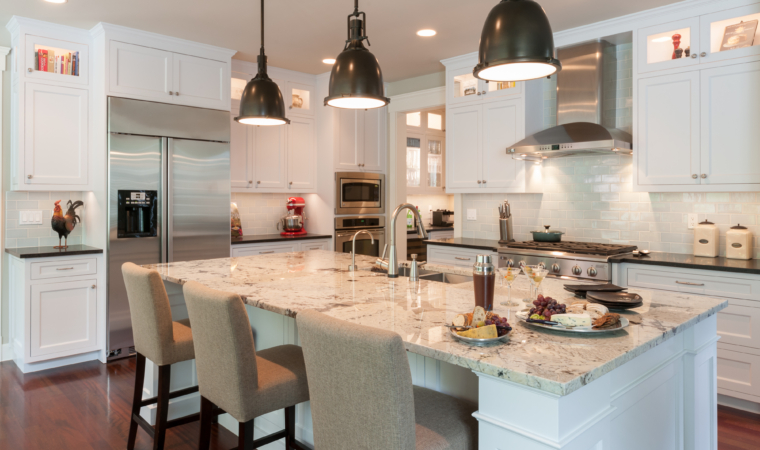 Classic White Kitchen with Industrial Flair
Sam and Janna Rice have a lovely newer Bothell home. It had an attractive kitchen, but was dark and contained cherry cabinets, Janna's least favorite type. She either wanted to start a kitchen renovation that painted the cabinets or scrap them entirely and start fresh. In addition, the busy couple loved to entertain and desired an island slab without a seam. There were awkward trim details that bugged the couple and the Brazilian cherry floor was not to their taste and didn't continue into adjoining rooms. They knew being without a kitchen for a period of time would be challenging with a young family and a few days out of the house entirely while the hardwood floors were sanded and refinished were less than ideal. This young family needed a full-service design-build contractor to manage the project from design to construction to create the interior upgrades that were consistent with the other high-end finishes in their home while minimizing the possible disruptions.
Sales Manager Mark Jensen priced out the cabinet options for the couple and the investment for new cabinetry was similar to painting the existing, making the decision to create the kitchen they really desired was easy.  After finding the largest non-seamed granite slab they could locate, the new island cabinetry was custom-built to support the size and weight of it, giving tons of entertaining and dining options for the family. The new kitchen, while in the same footprint was far from just replacing the existing cabinets. Beautiful floor-to-ceiling white cabinets from KC Cabinetry had inset doors and featured glass panels and accent lights at the top created a striking storage option with increased capacity. The massive island was 30 percent larger than the previous one and contained a large stainless steel 2-sided sink with an insta-hot faucet and still left room for bar-seating. Glass subway tiles in a glossy Icewater color were chosen for the backsplash, creating a classy and modern look.
New hardwood floors were added in place of carpet in the den and dining room, and then old and new hardwoods throughout were sanded and stained a lovely espresso color. A new set of french doors were installed into the office entry and trim details throughout the first floor were removed and replaced to match the sophistication of the new cabinets and fixed the existing awkward transitions. Gorgeous Edison bulb lights in two modern chandeliers replaced can lighting in the dining room and under-cabinet lighting in the kitchen with large Benson pendants made a statement over the large kitchen island.  Necessary but unattractive items like the garbage and recycling cans were enclosed within the island cabinetry, making for easy disposal but are hidden from view.
The clients were pleased with the results and are ready for the holiday entertaining season. To see more McAdams Remodeling & Design kitchen remodels, click here.