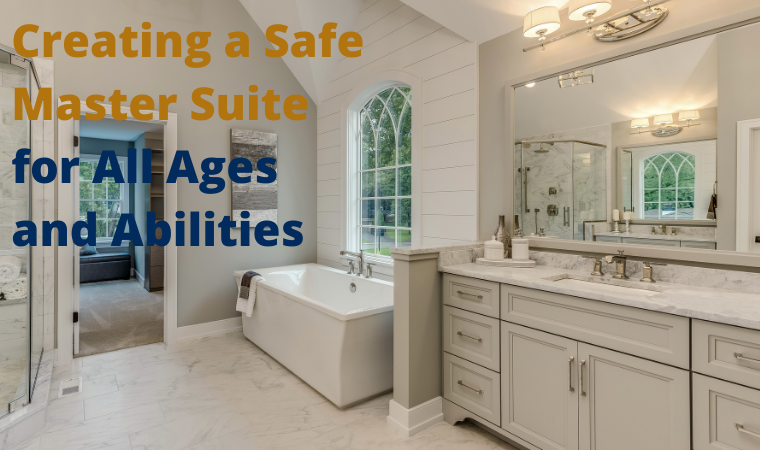 Creating a Safe Master Suite for All Ages and Abilities
Clients nearing retirement often seek a master suite remodel with the intent of having it meet their needs today and in the future. Here are some features we like to recommend when approaching a master suite remodel with that goal in mind.
Wider doorways – The average person isn't going to note a slightly larger than average doorway, but these can make a huge difference by providing easier access for someone in a wheelchair or making use of a walker.
Main floor placement/elevators – Creating a master suite on the main floor is ideal for those who anticipate stairs becoming difficult. If your home doesn't have room for a main floor suite, we can help you create the infrastructure for an elevator installation later on if/when needed.
Flooring with texture – Carpet with a high or thick nap can be more dangerous than some of the lower profile alternatives. Whichever flooring surface you choose, we recommend you select an option with texture to avoid slippery situations. Be aware that floor rugs can be a tripping hazard, so use these with caution in your space.
Comfort height vanity and countertops – Many of our clients are selecting higher vanities and countertops for everyday use. Whether planning for current or future needs, installing a vanity and countertop height that will work for your needs is key. We recommend seated vanity options for those who find standing for periods of time to be challenging.
Curbless shower – Whether mobility is an issue or not, as you age flexibility declines. A curbless shower system allows for easy entry since you don't have to step over a raised threshold. Adding seating in your shower design now can make tasks like shaving legs easier in the present, while at the same time providing for what may become a necessity in the future.
Grab bars – These don't have to be the old, ugly, makeshift grab bars. Modern options can be quite attractive and if thoughtfully placed, can be perfect for hanging towels today but capable of holding weight if needed later on.
Less Stuff – While we always recommend a design that has appropriate storage options for containment of daily detritus, this becomes particularly important if mobility is a challenge. Floor rugs, excessive furniture, laundry baskets and the like can be tripping hazards and are easily avoidable.