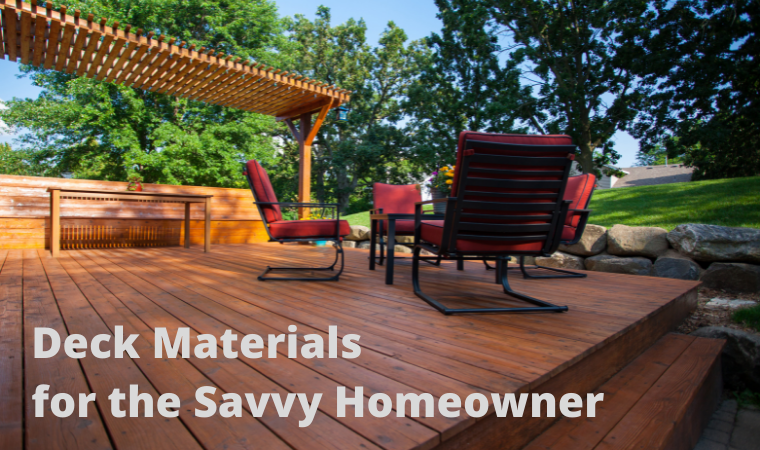 Deck Materials for the Savvy Homeowner
Here in the PNW we have a temperate climate, but we're also blessed with a lot of rain! As a full-service design-build firm, we help you with selections and guide you to quality materials that work well in our region and will last and fit your lifestyle. These are the materials we recommend:
Cedar smells good and is attractive and plentiful here in the Northwest, while being naturally resistant to pests and moisture. Usually more cost-effective than composite options, with the current volatile wood market be sure to investigate the cost difference before deciding. Cedar also requires regular maintenance unless you're comfortable letting your deck season, which will lead to a shorter life span.
Composite is a good low-maintenance option. Now available in several colors and brands, composite can be an attractive alternative to a wood deck. Pricier in cost than wood, in the long run your investment may balance out in time and effort as there is no regular staining or treating of the material. While it can get slippery in the winter, the life of this material is long. If you intend to remain in your home long term, this may be a good choice for you.
If you prefer the wood aesthetic, but want less maintenance than cedar, Pressure Treated Wood may be a good choice. Durable and insect-resistant because of the treatment process, it's a solid option for a wet climate. Not as attractive as cedar or some of the hardwood alternatives, it is a viable choice for those wanting a cost-effective, long lasting option.
If you want a wood alternative, with little to no maintenance, PVC Decking (polyvinyl chloride) might be just what you're looking for. More expensive than wood and a completely synthetic material, PVC has been around for years offering a tried-and-true product that comes in a myriad of colors. PVC will not be confused for real wood though and the color can fade. While a durable material, seasonal temperature changes can make it slippery in the winter or hot in direct sun.
Hardwoods, like Ipe, are another wood alternative to cedar. As they sound, these woods won't scratch or dent as easily as cedar, are resistant to insects, and feature unique wood grains. Since they're often slow-growing trees, hardwood options aren't the most ecological option out there. Like cedar, they require annual maintenance.