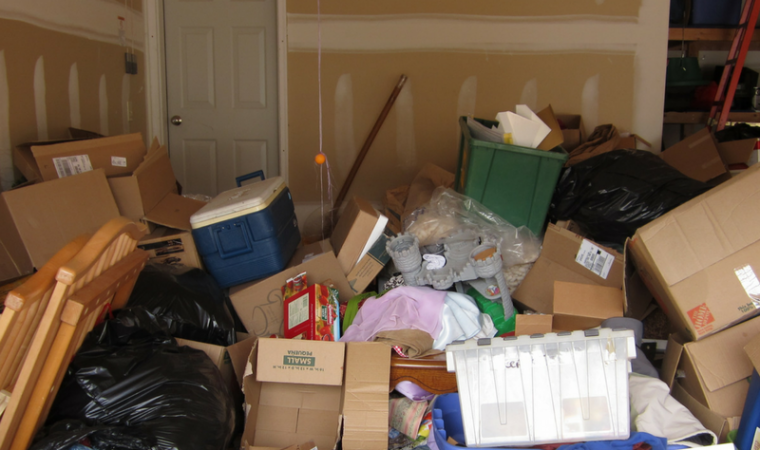 Declutter the Garage
Decluttering the garage may seem like an activity that would be better in the winter, when the weather is poor. However, if you're like most, you store much of your patio or deck furniture in your garage during the poor weather months, so trying to reduce the clutter is an impossible task. Instead, if you tackle this project during the summer months, there are less items in the way to get to the things that can be gifted or thrown away. Plus, you can use your driveway as a staging area as you clean and de-clutter without being threatened with the elements.
Paints and solvents – do you have small remnants of old paint and solvents cluttering up your garage? Small amounts can be opened and dried out in the sun before disposing of them and then can be put in your garbage can.
Broken items – unless you take something to be fixed on the regular, rid yourself of non-working items stat. They are just cluttering up your space and a more functional item makes more sense. Before you toss it in the garbage though, consider offering it on your buy-nothing site to see if there's handy neighbor that might want to take it off your hands.
Tools – whether gardening or power tools, take stock and see what items you actually use. If you pay for a yard service, you may find that gifting or selling the yard tools you aren't using may be a better use of space.
Holiday Stuff – it's amazing what we'll store for years, that only gets a little love a few weeks a year. Go through your holiday stuff and if you didn't use it last year, consider gifting on your buy nothing site to a family that will use it. If you can keep your holiday items to a few color-coded, labeled bins, it will be a great visual cue for pulling out the appropriate items when you want them.
Camping Gear – are you a regular camper or a once-a-year glamper? If the second sounds more like you, consider what items you really need, or if it's possible to borrow them from a friend for your annual trip. If borrowing is feasible, sell or donate the items you don't need and free up the room.
An organized garage with only working items, will feel amazing. Be careful not to start a new storage collection with all that freed up space. Before you know it, you'll be bringing in the patio and deck furniture and you'll need a designated spot to keep things working smoothly.
If you have other items you're not sure how to dispose of, the City of Kirkland has a page dedicated to proper disposal.