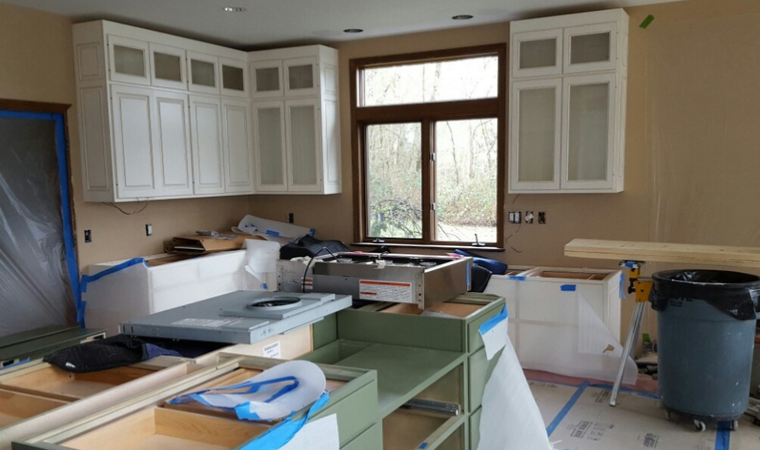 Keeping it Real, What it's Like To Live Through a Remodel
Since a few of us in the office have recently been through remodels at our own homes, we talked about key things we learned firsthand that we think would be helpful to clients before they're in the midst of a major home remodel themselves.
Be flexible and keep your sense of humor. Few things in life are completely smooth, and a remodel is no different.
A remodel can be tiring and bring out your emotions. Do your best to remember that this project will end and that the short-term pain will go away.
A remodel always takes longer than you think. Eight weeks seems doable, and it is. However, if there's a hiccup, like receiving the wrong hinges, finding water damage, or even a client-driven change order, the project calendar can change.
A remodel will disrupt your routine and daily schedule. If you're using an alternate bathroom, have a make-shift kitchen, or have a living room out of commission, it's to be expected that you may need to build a bit more time into your typical routine.
Dust will be a sworn enemy. As a company we use dust barriers, and clean up at the end of the day, but dust still can make its way into the craziest places.
Purge, purge, purge. Since removal of items from a room is needed regardless of the type of remodel, it's a good time to get rid of the stuff you don't want or need. While you'll likely do this as you're putting rooms back together, we think the initial purge is most effective at getting rid of unnecessary items.
It takes longer than you can imagine putting your house back together after a remodel is complete. Be kind to yourself and understand that it can take time to restore organization to a new space.
Replacing flooring has a huge ripple effect. You'll need to remove everything from a room, including all furniture and closet items. If you replace all the flooring on a particular level of your house, the sheer movement of stuff can be overwhelming.
It may be helpful to designate a spokesperson. We found that one person in our family is more opinionated than the other, especially when it comes to house projects. Agree as to who that is and put them in charge of making the small decisions that make crop up during the process.
Treat yourself. Build into your budget a few dollars for upgrading items in your new room. Something like new towels, rugs, shades or dishes can be the perfect final touch to a brand-new space.
Educate yourself on material care. If your new space includes materials that are new to you, it's important to determine how best to care for them so that they have a long life.
Lastly, enjoy it. Really appreciate the amount of time you waited with a less than perfect space and then take in the gorgeous room you're now able to use.