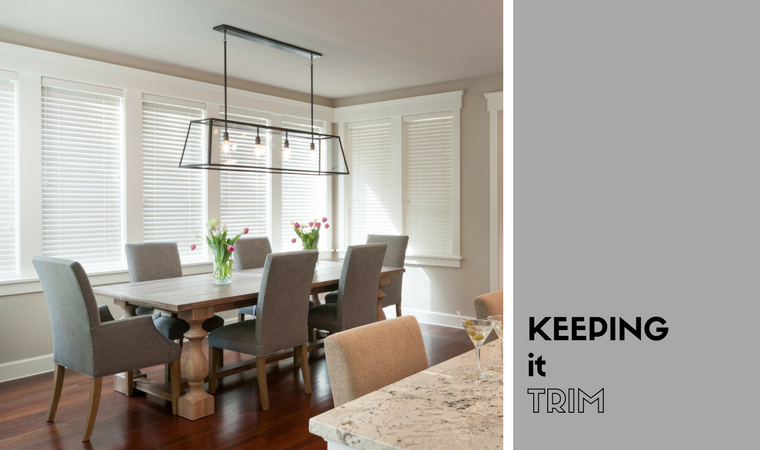 Keeping it Trim
Often, trim is a small, overlooked detail in a home. We believe this after-thought can really make a room, but it's often not a priority for homeowners. It can show the difference between a well-design space and one that's slapped together. When we work with clients, we recommend trim that matches the existing version in the home, or if their home features a specific style, like Victorian or Craftsman, that they choose the specific trim styles for those homes.  If you're still looking for more trim guidance, here are some general rules of thumb:
Standard molding – with so many sizes for molding, it's easy to get overwhelmed. In our book, standard molding sizes are 2 or 2 ½ inches wide for door casings and 3 ½ inches tall for base molding.
Crown Molding – a decorative molding that provides a good visual separation between the walls and ceiling. Certain homes can pull it off, but it's not right for everyone. If your room has low ceilings, we don't recommend crown molding as it can make the room feel smaller.
Wainscoting – seen often in Craftsman style homes, wood paneling is featured on the lower half of a wall, painted in a different color than the upper wall paint
Materials – trim comes in many material options, most commonly wood, pre-primed finger-jointed, or MDF. We use either wood or finger-jointed versions in our client's homes as we find MDF harder to finish and more likely to fail.
Wood – typically solid hemlock, wood pieces are easy to nail in, fill nail holes and paint over for a finished look. Wood trim can come in shorter pieces to prevent curling.
Finger-jointed – a combination of small pieces of wood, finger-jointed trim is a good compromise cost-wise between wood and MDF. Available in a multitude of sizes, this is a stable material for trim and is easier to nail and fill for that finished look.
MDF – multi-density fiber-board comes in long lengths and pre-primed, should you desire. It's harder to nail and fill for a finished aesthetic, but is the most cost-effective option.
Regardless of the trim options that you choose, we recommend that your door casing is deeper than your base molding so that the base molding dives into the door casing, ensuring it looks finished when they're married together. Still not sure where to begin? Get trim samples and look at them in your home or give us a call.