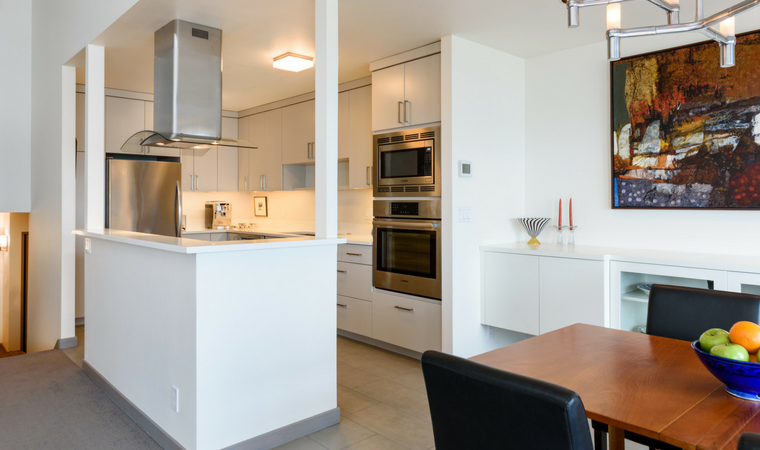 Pike Place Condo Kitchen and Bath Renovation
Very seldom do we have an opportunity to work with a client that lives in a condo, and even more rarely, one that lives within the fabulous Pike Place Market area. Diane came to us from our friends at KC Fine Cabinetry when she was looking to remodel her kitchen and bathrooms in her 1200 square foot Pike Place Market condo. She'd been living with the condo's builder-grade finishes and was ready to renovate them with a modern flair more consistent with her style.
Diane's first priority was the kitchen. It was dated and closed off from the rest of the condo, blocking the view of Puget Sound and Pike Place Market while cooking, and hindering the ability to interact with guests. She desperately wanted to have a more open-plan concept. Based on a design Sales Manager Mark Jensen created, Job Manager Chris Guempel was able to remove 90% of the closed off non-load bearing walls, leaving only a small area of structural wall space, giving her kitchen a much more open feel. Her new cabinets were European frameless painted a Whisker Gray, and were complemented by stainless steel appliances and a Pental Quartz countertop in a polished white. A gray tile for the floor completed the clean, modern design.
Her master bathroom was functional but dated. It contained a jetted tub/shower combination that we replaced with a tile front drop in version, a more contemporary selection. The new tub/shower combo contained a glass half door that hinged so that reaching in and turning on the faucet was not a chore. The vanity, also a European frameless cabinet like the kitchen, was painted an Italian Marble color. A white undermount sink, and white quartz countertop gave the room a very clean feel. Her bathrooms didn't have central heating so she chose heated tile flooring, a great solution to ensure her feet are warm, year-round. A unique feature we added to Diane's space was a sliding obscure-glass door for her closet which was similar to the glass pocket door on the master bathroom. Both will allow maximum natural light while preserving privacy between the bathroom and the bedroom.
Her hall bathroom, a simpler design with just a shower, contained many of the same elements of the master bathroom. The vanity European frameless cabinet in Italian Marble, the white Quartz countertop, white undermount sink and a hinged glass door in the step-in shower will ensure her guests feel refreshed after staying with her. White electrical switches were added throughout the bathrooms as well as the condo replacing the beige versions, along with a new modern thermostat. In all, it feels like a totally new home.
Working in a condo is no easy feat. It is especially important is to work with a reputable contractor that really knows and understands what's going on. Condos can be particularly challenging because beyond their all steel-stud construction, typically more than one unit is tied to the same water and electrical system requiring a collaborative effort with neighboring units. In addition, there are many conversations that must be had with the Home Owners Association (HOA) to ensure that the proposed changes are acceptable and don't affect neighboring unit's noise volumes, such as when replacing carpet for hardwood. Material delivery and parking in an urban setting were challenges overcome thanks to a dedicated parking spot provided by the client and a great relationship formed with the building maintenance department.