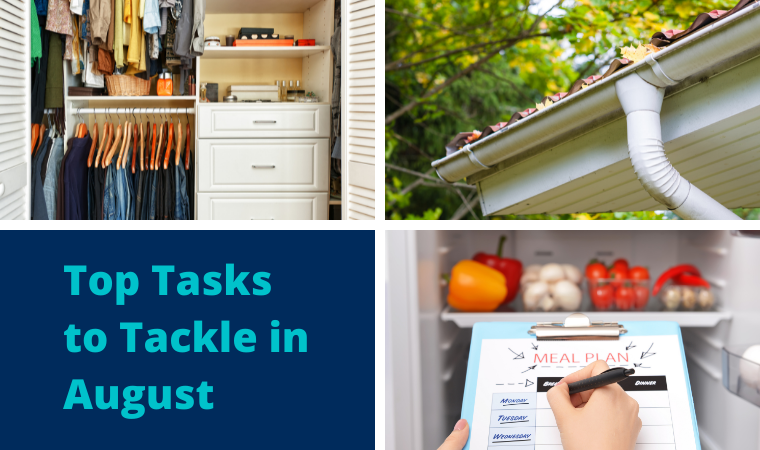 Top Tasks to Tackle in August
The new school year is coming fast coupled with many now heading back into the office, so it's the time to get ahead of the fall overwhelm by tackling these tasks this month:
Food prep – now is a great time to pick up your old food prep habits. Many of us fell out of these with the long summer days, but you'll soon be packing lunches regularly again. This is also a good opportunity to clean out your refrigerator and pantry of unused or old food items just taking up space.
Get organized – do you have school supplies yet? Lunch boxes? A family calendar? Rain jackets that fit? These items will help your household start off on the right foot, so don't wait until after the school year starts. Now is the time to get ahead and be ready for the change of season.
Stock up – with fall comes colder weather and storms. Make sure you're stocked up on extra batteries, food and first aid supplies. Hopefully you won't need them, but it will be nice to have them available if you do.
Clean up and discard – if your garage has collected things over the summer while you've been playing outdoors, now is the time to get everything back in its place and to get rid of things you don't need.
Fire-wise – clean up any loose leaves and needles around your yard, including on your roof and gutters to avoid possible fire hazards.
Above all, enjoy the weather – as Seattleites, we know our nice and warm days are numbered. Don't let them pass by without finishing your outdoor projects, go on that hike you've been meaning to take, or simply relax in your newly remodeled by McAdams outdoor living space.