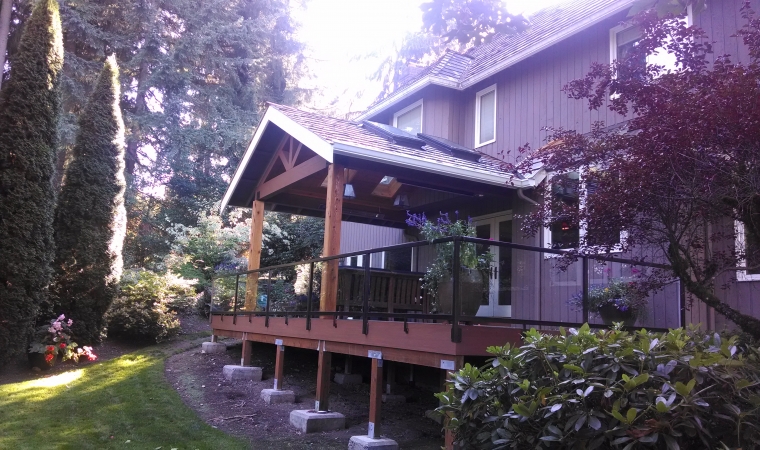 Year-Round Entertaining on a Bothell Covered Deck
After finding McAdams Remodeling & Design at the Remodeling Expo, the Simmons family decided to move forward with another contractor who provided a slightly lower estimate. Several false starts and missteps later, Leslie and Bill called McAdams Remodeling & Design back and were happy to pay a slight premium for an increase in service and beautiful results.
After reviewing the plans that the original firm developed, it became apparent to Sales Manager Mark Jensen, that the design was not going to work as intended. So, after an updated design process, construction was underway for their new covered patio and interior upgrades. A few inherent challenges to the covered deck project kept us on our toes. The couple wanted to retain the existing railing since they'd recently purchased it. We agreed that we would accommodate the request, but it made the design process and construction more difficult as there was little-to-no margin for error. Thank goodness for excellent designs and craftsman! The square footage of the deck not only had to stay within the same footprint, but required being the same as the previous version. The new 14-foot by 14-foot deck contains heaters so that it could be used year-round and lights for use at night. The heaters were a challenge because they can be incredible energy-suckers and therefore the electrical panel needed to be able to accommodate the new demand. After a quick panel review by the electrician, the Simmons home was found to have enough power to spare in the existing electrical box.
The interior upgrade changes for Leslie and Bill's home were comprised of creating a wet bar, replacing the fireplace, and improving the access to the deck. After moving the existing half wall three feet, raising the floor in that area and refinishing the hardwood, access to the deck was no longer an issue. The new fireplace was tricky to design because it required a reworking of the room. Instead of a wood-fired fireplace within brick, a gas version replaced it with a beautiful 12-inch porcelain tile surround in the color Graphite from Pental. A beautiful hearth with bookcases on each side finished off that wall of the family room. The wet-bar, the least necessary item, but the most fun, was created using cabinets from KC Fine Cabinetry that were maple-stained so that they were consistent with the adjacent kitchen cabinetry. Upper glass cabinets feature the Simmon's favorite glassware and an enclosed beverage center holds the couple's favorite bottles.
The project took roughly 10 weeks total to complete and the Simmons family is ready to entertain this winter!
See more outdoor living space projects we've completed.