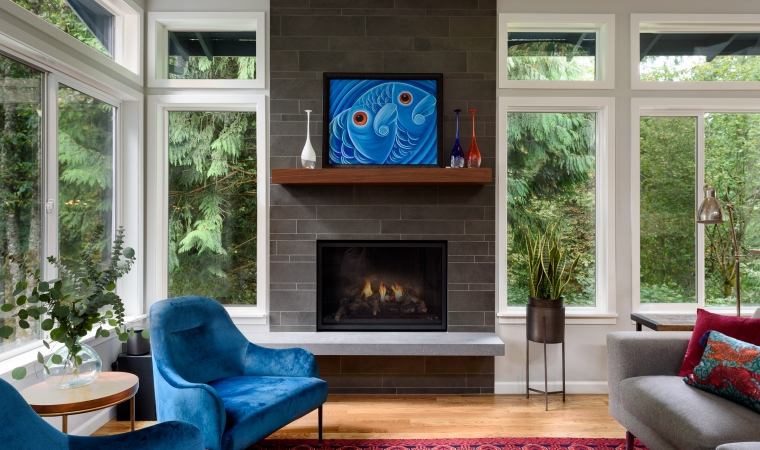 Redmond Multi-Story Whole House Remodel
Recent clients Joe and Andrea Basel came to McAdams Remodeling Design with a desire to upgrade almost every room in their home. They had two small children and knew that the neighborhood and schools were worth staying for, but they were ready to have their home be more functional to their needs and consistent with their style. Both work full time, so having a full-service remodeler that could deliver their chosen design on time, budget, and as expected was important to them. They wanted a team they could trust, with as little impact to their daily life as possible.
This busy couple had three levels of their home that needed to be renovated, so moving out was necessary. The basement level contained a multi-use family room, laundry room and bathroom. The downstairs laundry and bathroom were a semi-combined space that required one to enter through a dated laundry area and then open a second door to get into the equally dated basement bathroom. The bathroom held a pedestal sink, a toilet that was offset from the wall and a busy tile patterned shower.  The basement living room served as both a family room, toy room, and guest quarters, though it didn't do any of those things well. When functioning as guest quarters, it was both inefficient and uncomfortable. A blow-up mattress served as the bed for visiting grandparents and needed to be located and blown up prior to each visit. The room overflowed with toys, but had no dedicated space for toy storage, making the room feel cluttered and overwhelmed.
The newly remodeled space still combines both functions, but utilizes additional space captured by removing the door between the two. The laundry room now includes dedicated hooks to contain items used daily like jackets and backpacks, while a shelf above the washer and dryer serves as a folding station. Above that, hanging clothes can be placed on the installed bar and moved to the appropriate closet when ready. A narrow top shelf can store often used items or laundry baskets when not in use. A tall cabinet will keep all cleaning items enclosed. The newly remodeled adjacent bathroom area has a large vanity that contains an extra deep sink, perfect for personal use or for soaking stains. The glass enclosed shower features white subway tiles and an adjustable showerhead. An enclosed toilet room ensures multiple people can utilize the space without compromising privacy and functionality is maximized.
To improve this situation, built-in shelves now help keep toys and other detritus contained and organized. A new murphy bed offers guests a comfortable and intentional space to sleep when visiting, while folding away when not in use. The newly remodeled space also features an updated wet bar that includes on demand access to the family's favorite beverage, filtered carbonated water. Overall this multi-functional space now feels more mature, organized and operational for the family.
The family's main floor level contained the kid's bathroom and bedrooms, living room, dining room and kitchen with eat-in nook. The kitchen was drafty, small and cramped for this often-cooking family and the eat-in area contained a fireplace that just seemed oddly placed and wasn't used because of the location. There was a partial wall that enclosed the living room from the kitchen, leaving the person cooking unnecessarily separated from the rest of the main living space. The stair railing was white and visually disruptive and did not reflect the tastes of the homeowners, and the focal point of the living room was an outdated fireplace. The kid's bathroom was tight for bathing small children and wasn't supportive of the kids as they age. The bedrooms were small and the closet in their daughter's room wasn't sufficient for her storage needs.
A small addition to one side of their house, gave their daughter Nina's room just enough square footage to add more closet space and an extra hot water heater for the main floor. The kid's bathroom, which also serves as the main floor bath for visitors, now contains two sinks, one for each child, with a separate space for the toilet and tub/shower combination. The living room fireplace received a tile face lift, updating it to be more in tune aesthetically with the rest of the home. The railing, previously chunky and white, now is an attractive iron pattern, combining both function and fashion. The most significant change to this level was the kitchen remodel. The walls separating the kitchen from the living room are replaced with low built-ins, giving the space a much more open feel and additional storage and countertop space. A beautiful inset pantry closet replaces the previously unused fireplace and increases the storage capacity of the kitchen. The traditional oak cabinets with beige countertops were replaced with gorgeous Birch cabinets with a Heritage stain. The footprint of the kitchen is larger than before, making the overall kitchen more spacious, while still allowing for an eat-in nook with built-in bench and additional storage room. A massive cabinet-wrapped Subzero refrigerator ensures Joe has all the ingredients for his dish of choice at his fingertips. The Blue Star range is perfect for entertaining as well as weeknight cooking.
Read about Joe and Andrea's master suite remodel on the project page.